10 in 25: Home Is Where Your Dream Team Lives
Oakmont Capital Services (OCS) was founded in 1998. Joe Leonard, President & CEO and CLFP, and Megan Zoba, VP Documentation and Funding, joined forces to start a small commercial finance company. Over the next 25 years, the organization would grow from 3 employees to over 60, with locations in the Northeast and Midwestern United States. But how did the owners declare a name? Where has OCS "lived" for the past 25 years? We did a deep dive into the history of OCS and have all the answers to how this equipment finance company has evolved over the past two-plus decades.
What's In a Name?
The name Oakmont Capital Services originated from a unique place. After Joe met Megan, he moved into a community called Oakmont. The new business owners quickly realized this was the same development Megan grew up in and where her mother still lived.  Coincidence? We think not!
OCS comes from very humble beginnings. The original office was a small, walkout-style basement complete with 1980s-style wood paneling located in Media, Pennsylvania. This quaint 500-square-foot space housed three employees: Joe, Megan, and a face OCS has come to know and love, Jen Foulds, Funding Manager and CLFP. The office was tight but filled with unforgettable memories. Most were great and funny to look back on, but one was exceptionally poignant.
"That office was our viewing area of the 9/11 coverage, which will always be embedded in our answer to the 'where were you when' question," said Leonard.
Growing Pains
OCS PA continued to expand, and soon the basement became too tight for the influx of new employees. The company was then moved to the second floor of a building in Middletown Township (PA) — also covered in wood paneling — that lasted only a short time. The newly renovated office was only big enough to hold its employees for three years before OCS was on to bigger and better things. In 2005, the company moved to an entire building floor near the busy intersection of Route 1 in Middletown Township (PA). While equipment financing was getting done, the newest office space provided entertainment – maybe too much entertainment!
"We were close to two fire stations and a State Police Barracks, so almost every day included some siren noises. The first floor was home to a dentist's office, and the building had poor acoustical qualities, so we frequently heard the sounds of a dental drill (and an occasional scream)," reminisced Leonard.
Before anyone knew it, the space, yet again, was too small to house all the new employees. In 2010, the company moved to the historic building at 1398 Wilmington Pike in West Chester, PA. The property was part of Washington's troops' route on their retreat from the Battle of the Brandywine to Valley Forge. Wilmington Pike housed the Oakmont family for over ten years. During this time, OCS' business volume expanded significantly. Soon OCS occupied multiple floors across two buildings.

"Branching" Out
As the company grew, Joe and Megan opened a second location in 2018 in Albany, Minnesota. The office began with eleven experienced equipment finance employees in a (windowless) basement. The satellite location was fondly nicknamed "The Acorn." While the office was small, it was filled with good memories.
"Potlucks with our landlords and a breakroom that was a 6-foot table loaded with appliances, no chairs, tucked in the corner with a tiny fridge but thankfully only two steps from the kitchen sink! We also had some excitement when one little rodent decided to pay a visit," recalled Daryn Lecy, COO/Vice President and CLFP.
The Pandemic Years
The Minnesota branch began to grow so quickly that "The Acorn" and its inhabitants were busting out of the basement! In early 2020, a plan was put in motion to move above ground. When COVID-19 hit, like the rest of the world, everyone began working from home. The hunt for a new building, however, continued. Oakmont's Albany branch was lucky enough to find an office already full of cubicles, chairs, and board room furniture that came at the small price of labor, A&W burgers, and several trips to Plymouth, MN to disassemble, load, unload, and reassemble furniture. Thanks to the team's determination and "always willing to help mentality," the process was a fun and rewarding project.
"On May 28, 2020, we emphatically returned to a new office that was above ground and had the luxury of windows," said Lecy. "While the lower level was a great time where we kept the atmosphere light and fun, filled with fond memories, it's amazing how much different life above ground is for the soul! 131 8th Street, Suite 1, was our next home. "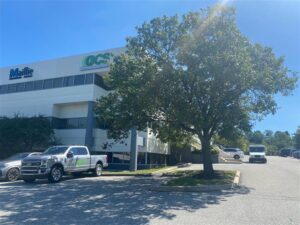 Just before the COVID-19 pandemic hit, plans were set in motion to move the PA office as well, into our current home at 600 Willowbrook Lane, also in West Chester. It took a while, but in December 2021, the move happened, and we have called it home ever since.
"We have only been at 600 Willowbrook for 16 months, but the memories are already forming. We look forward to continuing to grow and having many more new experiences with our talented staff," added Leonard.
Back To the Midwest
Even with a larger building, space soon became tight for the MN team, with the company growing rapidly. Many temporary solutions were implemented, such as cubical sharing and extended hybrid work schedules. Eventually, more space was needed, and in February 2022, seven operational employees were relocated to the 100-year-old house in the backyard of the main office.
Soon seven turned into twelve people, and everyone shared (converted) living rooms, family rooms, and master bedrooms as their daily workspaces. The OCS family made the best of the situation, but it was again time to find a bigger office space where everyone could work together. Plans were implemented to build a new 20,000-square-foot office, with OCS occupying over half of the space.
Ground broke in July 2022, and the concrete panel perimeter was complete by September. Luckily for OCS, material and labor shortages did not significantly affect the building's progress. On February 22nd, 2023, "The Acorn's" address was officially changed to 1321 Shamrock Lane in Albany, MN. The new high-tech building is OCS MN's brand-new home away from home for the long haul. They are ready for more memories and more people.
"With several moves in Minnesota's short history, there has always been something to look forward to. Most recently, we looked forward to getting the entire family together in one location – that day is here — woo-hoo," Lecy commented excitedly. "While the addresses have changed and the size of each office has grown, one constant remains: our great employees have brought much joy and accomplishment to each location, and it is certain to continue."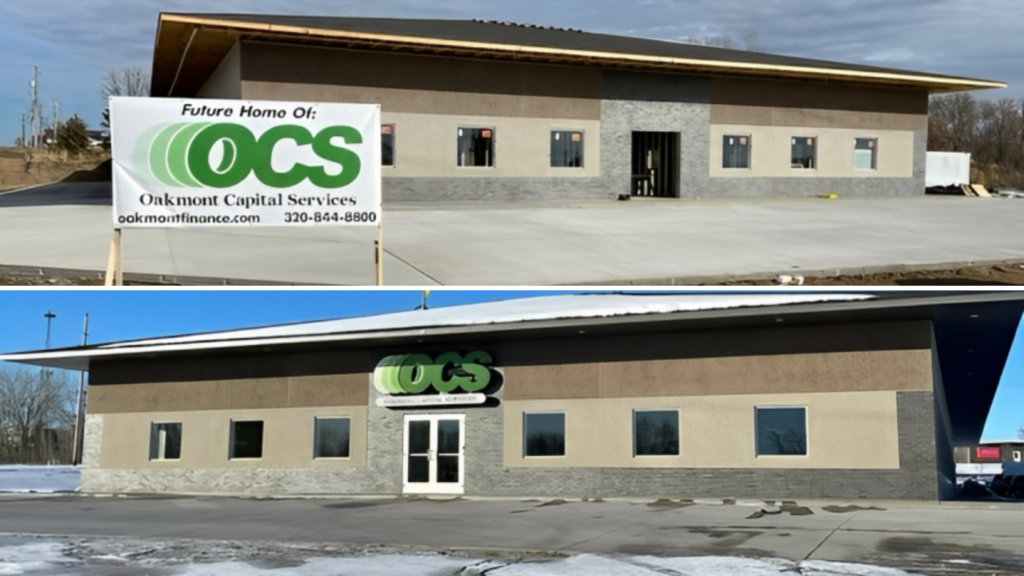 Home Sweet Home
Oakmont Capital Services continues to grow, and there is no slowing down in sight. But no matter where the future takes us – new spaces, new industries, new financing solutions – it will be the people who continue to "make it possible" for our customers, partners, and each other.
Better Rates and Flexible Terms
Oakmont Capital shatters the big bank rates, making us the go-to funding source for a wide range of customers.
Over 20 Years of Experience
Work with our team of experts and grow your business. Speak with our Certified Lease & Finance Professionals today to learn more.
24 Hour Turnaround
Our streamlined application process delivers credit decisions within hours, not days, maximizing your time and experience.