SMALL BUSINESS SHOWCASE: ELF TOOLS
We connected with Oakmont Capital Services' customer Fritz Spohr of Elf Tools for a Q&A to learn about his business' history, the company mission, his experience working in the tool industry, and how his partnership with Oakmont Capital Services helps fuel business growth.
Q&A With Fritz Spohr, Owner of Elf Tools
Q: How long have you been in business, Fritz? How did you get started in your industry? Why did you decide to start your own company? 
A: I've been in business for about 15 years. I had just lost my job when I happened to drive by a tool truck – that's when I decided to go into business for myself.
Q: What would you say is unique about the services you offer and how do they bring value to your customers?
A: For me, it's very simple:
Supply quality tools, like:

Cornwell Toolboxes
Autel Scan Tools
Metal Man Welders

Provide excellent and dependable service
Honor ALL tool warranties – no questions asked
My goal is to be the best tool man in my area and that means delivering the best to my customers.
Q: What piece of advice can you give another business owner right now?
A: Integrity goes a long way. Always be honest with your customers.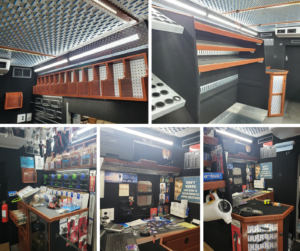 Q: How else have you differentiated yourself within the industry?
A: I try to create a fun environment when I'm on the truck or in the shops with clients. If I can always make them feel appreciated and show them they're my priority, then I'm not only achieving my goal, but I know I'm giving them a great experience.
Q: How has your business grown over the years? What can you attribute that growth to?
A: Most of it's by word of mouth. Customers, like mechanics, will recommend me over my other three competitors. It goes back to the customer experience and satisfaction I prioritize. I listen to their concerns, and I fulfill their wants and needs.
Q: How did you find out about OCS and our services? How has working with a financing partner like OCS helped your business grow?
A: There was another Cornwell Tools dealer who referred me to you. Oakmont financing allowed me to build a truck that makes a statement and enabled me to stock more products.
Q: What was it like working with your OCS business development officer, D.J. Jackson? 
A: D.J. was amazing to work with from the very first day. He was always asking questions to better understand my needs, concerns, and goals. He truly went beyond and above all my expectations.  He also assisted in financing my old tool tuck for a new Cornwell dealer.  I highly recommend D.J. to other dealers.
When we asked D.J. what it was like working with you, he had this to say:
"Fritz was incredible to work with and is a returning client of Oakmont's. He made the process so smooth and fun. Yes, I said FUN! His professionalism and personality are amazing.  And Fritz was excited about his new custom truck which is one of the nicest I have seen.  Also, we were able to help him sell his prior truck by providing the financing to the new owner.  It was especially meaningful when Fritz reached out to me on Christmas Day to wish me and my family a Merry Christmas. It is a special relationship we have with Fritz."

– D.J. Jackson, Business Development Officer
For more information about ELF Tools, email Fritz Spohr today elftools@gmail.com
Oakmont Capital Services (OCS), founded in 1998, is a direct, independent lender providing commercial equipment financing and working capital throughout all 50 United States. Our seasoned finance professionals work across many industry verticals, helping customers secure funding quickly and easily via a streamlined, virtual process. Our rates and terms are affordable, making OCS a reputable solution for equipment financing. The professional financing staff at Oakmont is the reliable choice for today's financing needs. For more information, visit www.oakmontfinance.com.
Better Rates and Flexible Terms
Oakmont Capital shatters the big bank rates, making us the go-to funding source for a wide range of customers.
Over 20 Years of Experience
Work with our team of experts and grow your business. Speak with our Certified Lease & Finance Professionals today to learn more.
24 Hour Turnaround
Our streamlined application process delivers credit decisions within hours, not days, maximizing your time and experience.