Small Business Showcase: Fish Lawn & Tree LLC and Townsend Landscape Supply
"I started out with a 22-year-old Ford Ranger, a push mower, a weed eater from the farmers market, and a broom."

– Sean Fish, Owner of Fish Lawn & Tree LLC and Townsend Landscape Supply
We connected with Oakmont Capital Services' customer, Sean Fish of Fish Lawn & Tree LLC and Townsend Landscape Supply, for a Q&A to learn about his two family-owned small businesses, his experience working in the lawn and tree care industries, and how his partnership with Oakmont Capital Services has fueled business growth when he acquired loans for commercial vehicles.
Q&A with Sean Fish, Owner 
Q: How long have you been in the lawn care, tree service, and landscape supply business', Sean? How did you get started in those industries? Why did you decide to start your own company?
A: My father and I went into business together in August 2011. The year before, I was working a second shift job that afforded me free time during the day. I started mowing lawns for house owners who were selling their property and had already moved. I also had an arrangement with the realtor that had sold me my house. It was easy to manage while working a full-time job because I could schedule the work for any day that worked for me. In August 2011, my father and I decided to quit our full-time jobs and work together. Since then, we've built a tree service company and a landscape supply yard.
Q: How many employees do you currently have?
A: We have 10 employees between both operations.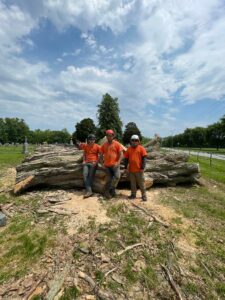 Q: What's unique about the services you offer?
A: At this time, we are predominantly a tree service company. I am an ISA Certified Arborist. We value trees and the role they play in our everyday life. When I meet with clients about their trees, I like to give them advice on what we can do to help preserve their trees rather than simply cut them down, which a lot of companies try to push.
Q: Are there specific products or services you provide that bring value to your customers?
A: We have a great relationship with a local crane company specializing in tree service removal. They have small and large cranes to help assist in the removal of large, dead, or storm-damaged removals. It is a great relationship to have because the assistance of cranes in tree work is very valuable. We can lift large pieces over top of houses, reducing the amount of technical rigging required. Jobs that could take multiple days by traditional rigging techniques can be completed in only a few hours with a crane. This allows us to have a safer job handled in less time, which saves the customer money.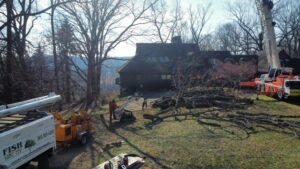 Q: How do you differentiate yourself within the industry?
A: Becoming a Certified Arborist has helped us grow as a company and preserve trees across our state (Delaware). Our company values trees and the care required for them to prosper. We make sure to follow ANSI pruning standards as well as OSHA safety standards. Pruning and safety are two vital processes in our industry since there is a natural risk involved in performing the work.
Q: Is there something special about your company culture or team that you can share?
A: Something special about our company culture that I feel is important is the small business feeling. All our guys have come in with little to no industry experience, and we have all grown together to be a leading tree service provider in our area. Everyone on the team has learned and earned their role in the company. This has made us what we are today.
Q: What are your company goals?
A: There are obvious revenue goals and equipment goals that we have kept in mind, and we continue to crush them with the relationships that we have built to get us to where we are tod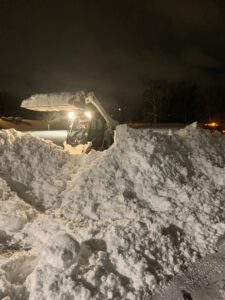 ay. My first child just had his second birthday, and it has really made me slow down with the number of hours I work each day. The goal that I believe is most important is to be able to spend as much time with my family as I can and have all our employees spend time with their families, too. Aside from snowstorms (which rarely fall on holidays), we make sure not to schedule jobs on any major holidays so we can spend time relaxing with our families.

Q: How has your business grown over the years? What can you attribute that growth to?
A: I started out with a 22-year-old Ford Ranger, a push mower, a weed eater from the farmers market, and a broom. I didn't even have a blower to blow grass clippings. It started as a side hustle for extra cash just over ten years ago. Being able to purchase the equipment we need when we need it has really played a key role in our growth. We have always made sure not to buy excessively or out of our limits with what we could afford. There comes a time though when it costs more money not to have the correct piece of equipment for the job.
Q: How did you find out about OCS and our services?
A: I purchased a Bobcat for a snow removal contract in 2017. Oakmont Capital Services handled my commercial equipment loan through a dealer financing option. I have since had numerous deals funded through OCS.
Q: How has working with a commercial equipment financing partner like OCS helped your business grow?
A: I can't express how much OCS has helped us grow. Their processes of working with businesses are unmatched by other commercial equipment financing companies. We had a global company come to us at the last-minute last year seeking our services for snow removal for the season. We needed an array of specialized (expensive) equipment in order to take on this account. A few days later, we had short-term funding to purchase all the equipment we needed for this account. It allowed us to pick up several more locations for this customer for the 2022-2023 season.
Q: What was it like working with your OCS contact/business development officer (salesperson)?
A: Kristy (Doll) is literally the best. I try not to text about work-related things after hours. Sometimes I get too excited and reach out to her about a potential deal after hours and she always gets right back to me. She is always just as excited about the next commercial equipment loan as I am.
When we asked Kristy what it was like working with Sean, she said:
"Sean has been a wonderful customer of Oakmont – his business continues to grow, beginning with one company and now managing two! The continued friendship we created has allowed Sean and me to connect over text, email, or the phone whenever small business equipment financing questions arise. It's huge for any owner to have trust in their lender and to rely on quick and easy communication. It's honestly one of the best feelings – having someone who keeps coming back time and time again because of that friendship and trust! It's been a real pleasure learning about Sean's business and experiencing the growth that's been accomplished throughout this past year!" 

– Kristy Doll, Account Manager, and CLFP
Q: What piece of advice can you give another business owner right now?
A: Having a lender that you can work with, and trust is crucial to growing any kind of new business with equipment financing. Plan for future growth (if that is what you are interested in) by purchasing equipment before you need it. Staying innovative is key to operating above the standard. In my opinion, especially in the labor industries, equipment is invaluable.
Q: What's your contact information so our readers can learn more about you and your businesses?
A: Our website is www.fishlawnandtree.com. Our Facebook pages are Fish Lawn and Tree and Townsend Landscape Supply. My email is Sean@fishlawnandtree.com. I would be glad to help anyone I can that has questions or recommendations.
Oakmont Capital Services (OCS), founded in 1998, is a direct, independent lender providing commercial equipment financing and working capital throughout all 50 United States. Our seasoned finance professionals work across many industry verticals, helping customers secure funding quickly and easily via a streamlined, virtual process. Our rates and terms are affordable, making OCS a reputable solution for equipment financing. The professional financing staff at Oakmont is the reliable choice for today's financing needs. For more information, visit www.oakmontfinance.com.   
Better Rates and Flexible Terms
Oakmont Capital shatters the big bank rates, making us the go-to funding source for a wide range of customers.
Over 20 Years of Experience
Work with our team of experts and grow your business. Speak with our Certified Lease & Finance Professionals today to learn more.
24 Hour Turnaround
Our streamlined application process delivers credit decisions within hours, not days, maximizing your time and experience.